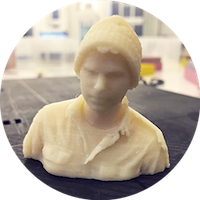 Summary
Versatile and multi-faceted additive manufacturing expert with 5 years industry experience and a proven track record leading and executing research and development for start-up stage design and technology companies. Offers a unique blend of technical engineering, visual and conceptual design, and hands-on fabrication expertise, combined with communications and marketing experience. Leverages design thinking and an interdisciplinary approach to tackle new challenges, solve problems and develop solutions that contribute to an organization's success. A trusted partner to cross-functional teams and company leadership, and is a strong communicator who bridges the gap between creatives, technology and business.
Skills
3D Printing Technologies: Bound Metal Deposition, Multi Jet Fusion, Binder Jetting, FDM/FFF, Stereolithography
Creative Expertise: Product Design, UX/UI Design, 3D Modeling, Copywriting, Copy Editing, , Woodworking, Manual & CNC Machining
Technical Skills: Solidworks, Materialise Magics, Adobe Photoshop, InDesign & Illustrator, QA Testing, Arduino, Python, G-Code, Design of Experiments
Professional Experience
Certifications & Awards
Advanced Operation Certification, HP Multi Jet Fusion 4200 Series 3D Printing System, Hewlett Packard, June 2018

Certified to operate, maintain, and troubleshoot HP Multi Jet Fusion 3D Printers.

Red Burns Scholarship Fund, Tisch School of the Arts, July 2015

Founders' scholarship awarded to second year students recognizing academic achievement.

SGA Senior Leadership Award, Skidmore College, May 2012

Recognized as graduating senior for consistent contribution to the co-curricular life of the college.